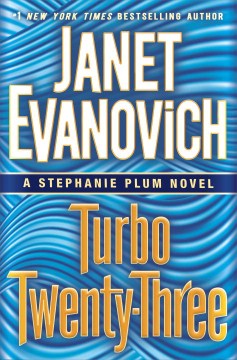 Turbo twenty-three
By Janet Evanovich
Find this book
Series: Stephanie Plum
Genre: Detective Fiction
In this next installment of the adventurous life of bounty hunter Stephanie Plum, Plum is chasing a crook who has skipped bail. With a trail of clues leading to a body topped in ice cream toppings, Plum decides to go undercover in the local ice cream factory to catch the killer and solve the mystery.   
This book also has a a touch of romantic intrigue with our heroine being tempted by a 'hot' mystery man even though she is sort of engaged to being engaged to Joe Morelli her Trenton cop who she has a special relationship with.

I really enjoyed this book as I have the rest of the series. The best part is that this book is great as a stand alone novel if you haven't read any of the other Stephanie Plum books - although you might find yourself hooked like me once you've had your first taste.